Welcome.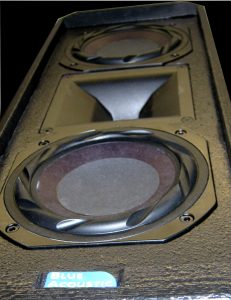 This website, along with our Facebook pages, is the Blue Acoustic window on the world of superior loudspeaker systems – powered and non-powered.
It's not a source of "eye candy style pretty pictures" either as the real world is a varied environment, as is every gig and every installation.
That said, we offer accurate data sheets with honest parameters on our site.
As such, we're told we've managed to strike a happy medium for all visitors.
Certainly from the feedback we receive it appears we're doing it correctly.
The Site.
We have a very varied viewing audience to our website.
Most visitors to this site appear to head directly to the "Data Sheet" section or to our "News" reports.
Please note that any part of the site may be reached from the various drop-down menus situated near the top of the page.
New for 2020 we have Ken's new "ModPod Innovation" drive.
These are super compact designs operating in three and four way modes which operate from remotely situated amplifier cases
OK, not 19″ rack but designed to fit more easily on the floor with minimal speaker
cable lengths to suit configurations.
For installation too the cases are less than 120mm deep which no 19″ rack can
compete with.
This allows a locked case to be placed in a dedicated safe place.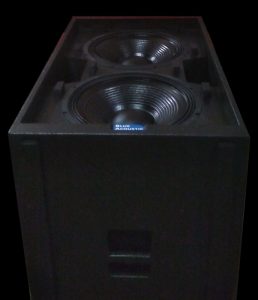 Immense value for money and complete lack of Oriental drivers and modules too.
British design, British build using European components.
New – a K Series church installation
Newtown based Hope Church has a newly installed Blue Acoustic K Series system to cover regular Sunday services and many other events.
Concerts and other meetings are also held at Hope Church and for this reason a specialised system was design specifically for this superb new venue.
For pricing of our cabinets and systems please get in touch with us by cell phone, email or PM on Facebook.
We welcome enquiries and will always do our best to answer your questions honestly and fairly.
We're also on Facebook available through THIS LINK.