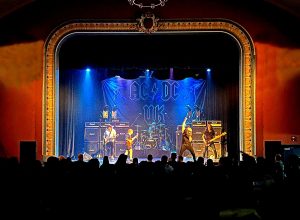 The British difference using European components.
Where we differ from the norm – Blue Acoustic takes the British and European markets in to consideration when designing systems.
Almost everyone has a bash at building Line Array systems and many fail however, don't tell the website and advertising exec's that's what eventually happens to their pretty designs.
Line Array is a great way of building and selling loads of boxes no matter what size a job may be and that's what most manufacturers need to do – build loads and sell loads.
That's not the Blue Acoustic way !
We supply what customers need and they're all reliable, great sounding point source systems.
Point source rigs are likely to successfully cover 90% or more gigs in the UK every year.
Labour saving, transport saving, stage space saving but above all, greater versatility and much improved sound quality from our European component supply.
Built to order.
Our systems are essentially all special order based on a known template but altered to your requirements.
We don't keep "stock" rigs but we do have demo systems from where you can select exactly what you want and, what you need.
Powersoft Modules.
The essential tools for powered all assembled by us to fit the application which again offers you more choices.
We only drive our powered speaker systems using customised Powersoft modules either fitted within the rear of the enclosures or in our dedicated ModPod racks.
Again, reliabilty is the keyword and our record for minimal failures is legendary.
Factory Direct Sales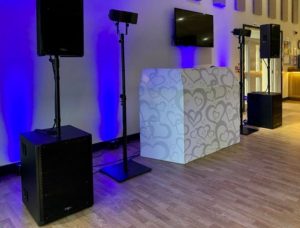 We do not sell through dealers or their distributors.
Setting Standards
The top picture shows a modestly extended K5 system at a gig in  Llandrindod Wells Pavilion using just six FOH enclosures for what became a very loud event.
The systems's output capability was way beyond what was evenually required.
Easily achieved as the experienced owner/engineer kept the levels adequate however, the powerful nature of this K5 rig offers great light/shade operation keeping levels sensible for those inside and outside the building.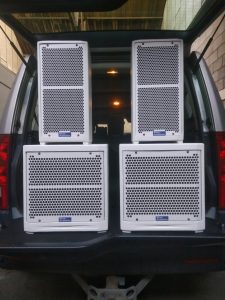 New for 2023.
This year so far has seen a large number of installation orders.
For Live and Music playback the all new G184 has become a flagship item with an amazing output/size ratio ready for a wide variety of gigs and using a mighty efficient 14″ low mid driver built by Beyma and equally superb 1.4″ exit compression driver manufactured by FaitalPro.
Both these drive units have lightweight neodymium magnets.
The single 18″ bass cabinet supplied for the G184 rig is also a neo' magnet driver and the cabinet houses a three way Powersoft module.
This rig is a super compact design operating in three way mode and include Powersoft modules to reliably provide the driving force.
Small is certainly proving popular but our small does not mean 'lightweight sound' either; far from it.
We work hard to get the most from the smallest.
We also have ModPod Innovations designs as a drive source.
OK, not 19″ rack (yet) but designed to fit more easily on the floor with minimal speaker cable lengths to suit configurations.
For installation too the cases are less than 120mm deep which no 19″ rack can compete with.
This allows a locked case to be placed in a dedicated safe place.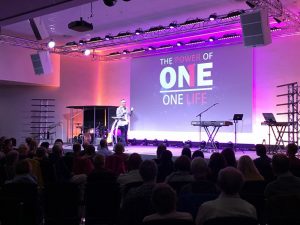 A  K Series church installation
Now fully operational again after the Covid lockdown Newtown's
Hope Church is using its 2018 installed Blue Acoustic K Series system to full potential once again.
The system is Powersoft powered throughout.
Concerts and other meetings are also held at Hope Church and for this reason a specialised system was design specifically for this superb venue.
Immense value for money – British design, British build using European components.
We even make our own handles !
For pricing of our cabinets and systems please get in touch with us by email or PM on Facebook.
We welcome enquiries and will always do our best to answer your questions honestly and fairly.
Here we are on Facebook available through THIS LINK.