Welcome to the difference
Where we differ from the norm – Blue Acoustic products are hand assembled
with the initial assistance of the finest CNC production techniques.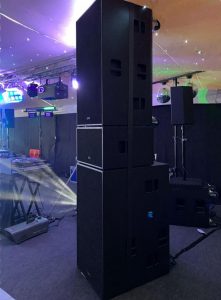 We use superior multi-laminate birch faced plywood throughout, even in our smallest cabinets,
Our drive units and amplifier modules are all built in Europe.
Our drive units come from industry trusted sources and we only drive our powered speaker systems using customised Powersoft modules either fitted within the rear of the enclosures or in our dedicated ModPod racks.
We do not sell through dealers or their distributors.
This not only offers you savings of up to 70% but, it allows us to use far superior drive units as we don't need to "trim" our prices to allow for the old fashioned way of selling loudspeaker systems.
The outcome is ultimate reliability and of course, excellent sonic results.
New for 2022.
After a first haf year of production updates the summer will bring new, very powerful systems for the Blue Acoustic range.
These are super compact designs operating in three and four way modes which include Powersoft modules to reliably provide the driving force.
Small is certainly proving popular but our small does not mean 'lightweight sound' either; far from it.
We work hard to get the most from the smallest.
We also have ModPod Innovations designs as a drive source.
OK, not 19″ rack but designed to fit more easily on the floor with minimal speaker cable lengths to suit configurations.
For installation too the cases are less than 120mm deep which no 19″ rack can compete with.
This allows a locked case to be placed in a dedicated safe place.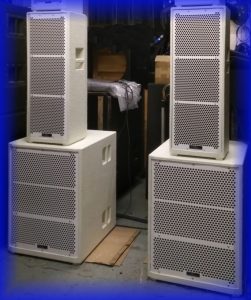 A  K Series church installation
Newtown based Hope Church has a newly installed Blue Acoustic K Series system to cover regular Sunday services and many other events.
Concerts and other meetings are also held at Hope Church and for this reason a specialised system was design specifically for this superb venue.
Immense value for money – British design, British build using European components.
For pricing of our cabinets and systems please get in touch with us by email or PM on Facebook.
We welcome enquiries and will always do our best to answer your questions honestly and fairly.
We're also on Facebook available through THIS LINK.