Here's the J1208 System.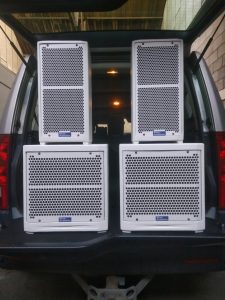 Per side the J1208 rig has a 12″ powered bass unit and single 8″/1″ top unit.
Very powerful not just for it's size – it's simply very powerful.
Three channels in the bass unit power the 12″, 8″ and 1″ HF to a legendary degree as all of our Powersoft driven systems do.
Great vocal delivery as well as accurate low frequency performance allow this wide bandwidth system to perform is a superior way to virtually all plastic box rigs built in the far corners of this world.
British design, British built using European built components throughout.
Black or white finish too.
More equipment news to come from Blue Acoustic in the coming weeks.