With the A2 System we now have, within our superb range of products, one of the best three way powered systems currently available.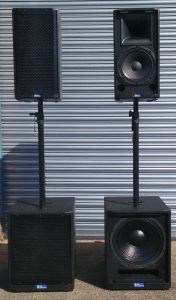 The A110 top cabinet features a high efficiency 10″ and a superior quality 1″ compression driver.
Both drivers feature lightweight neodymium magnets.
The placing of the module in the bass cabinet is also a weight and cost saving advantage.
The A15CB powered bass cabinet is loaded with a 15″ ferrite driver featuring a 4″ voice coil.
Also on board  is a customised Powersoft three channel module with a total capability of
3kw however, the output on each channel is sensibly governed to the power handling of each driver in the system.
In outp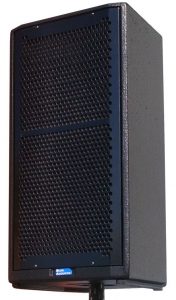 ut terms the A2 System offers the capability of an SPL of 109dB at a 10 metre mix position.
As such, the system will therefore provided low distortion reproduction to greater sized areas and therefore, more sizeable audiences than many larger systems offered by our competitors.
Our confidence for that claim is the combined ability of the components we use to provide greater levels of low distortion power.
This advantage is the result developed by the very high quality European drive units and modules that we employ.
Please also note that this 109dB is not some ficticous "peak" measurement.
Using European drive units and amp/dsp modules the A2 System has no passive crossover components on board.
As a standard measure the A15CB bass cabinet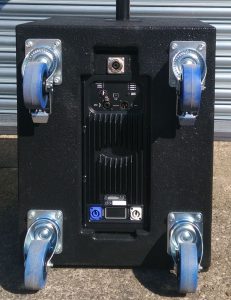 s are equipped with 100mm castors and a 20mm screw thread pole adaptor.
The A110 top cabinets have a top handle, a dual angle pole mount and are connected via Neutrik NLT4MP connectors using four core speaker cable.
This is an entirely "complete" system recommended for use in a wide variety of live events.
Covers, cables and poles are part of its make-up and it may also be supplied in a white finish at the same price as the black.
Please call us for more information.