Our smallest powered model.
This is the G8P ready and raring to go in fact, it's already out there in a revenue earning
capacity.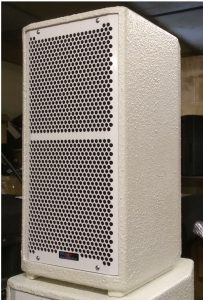 With an 8″ bass/mid and a 1″ compression driver on a 60° x 40° (option 90° x 40°) horn driven by a customised Powersoft module the G8P may be used in a number of important roles.
We've also included a pre-set with a "party-mode" to allow full-range use without bass cabs with suitably extended bass delivery too.
OK, in this mode efficiency is down on the other three pre-sets but, "party-mode" is not designed to fill a local theatre yet it is well protected by the cautious set-up of the EQ and limiting facilities.
Other pre-sets include the ability to use the G8P with single 15″ or 18″ bass cabs or as a dedicated system using a pair of our excellent 12″ bass units.
This combination offers a superbly accurate live or pre-recorded music PA.
The addition of a superb B&C HF driver on a Beyma horn offers amazing natural high frequency response avoiding the general harshness associated with 3″ and 4″ boxes not fitted with HF units.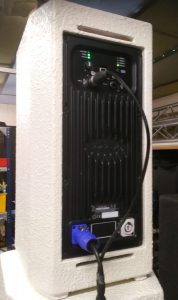 The all-new neodymium magnet 8″ FaitalPro bass driver features a 65mm voice coil which has a winding depth of 17.4mm.
This is deeper than many 12 and 15″ drivers on the market.
The Powersoft module fitted to the G8P has DSP facilities identical to those fitted to some of our largest cabinets and systems.
Input and link on both the mains section and the signal too.
We'll have a data sheet available very soon and this will be added to the Data Sheet section of this web site.
Call or email if you have any questions – we're always happy to discuss our products.
Oh, forgot – standard order colours are black or white.
For installation we can offer alternative versions of this fine loudspeaker.