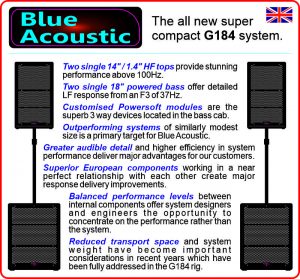 While it's neat to offer ultra thin compact cabinets sometimes you have
to launch a product with respectable sized, great sounding drive units.
For that we offer the all new G184 System previously planned for release in 2022.
Following the surprise delivery of some long awaited components the release date was brought forward to December 2021.
On top; a Beyma 14″ bass/mid driver coupled with an EighteenSound
1.4″ exit driver on either a 60° x 40° horn or an optional 90° x 50° horn.
This cabinet is powered from the bass cabinet.
Down below; a single FaitalPro 18″ in a powered box which also houses the three-way Powersoft module.
With overall balance and equally important, the balance between the tops and the bass being a major  requirement the 18″ bass driver is supplied by a 2kw amp section, the 14″ bass/mid supplied by a 750w amp section and the 1.4″ HF by an 80w amp section.
The relative efficiency of each drive unit is therefore apportioned correctly.
This allows minimal EQ requirement to be applied to the overall system thereby maintaining each driver's natural efficiency.
The result is a system that we know will work on tour and throughout hundreds of gigs over a number of years.
How do we know ?
Simple !
Our customers have been successfully doing that with our systems for over 40 years.
Here's the initial date sheet.   G184 – Data-new-2021