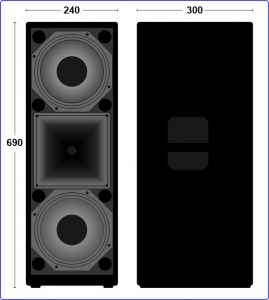 Yes, another 8″ loaded cabinet but this time loaded with dual 8″ drivers and an extremely efficient 1″ compression driver.
There are specific reasons for using a premium quality 1″ driver rather than using a 1.4″ exit compression driver but that talk is for another time.
This line-up is already a successful Blue Acoustic product but during the six years since the M208 was released developments and improvements have been made to many drive units.
That said we thought is was time to release a similar model to the M208 in a more efficient and higher power mode.
The 8″ we use in the new G208 is a superb driver.
The system we've designed to run the G208 and of course the G208P powered version model is the G8x.
It's a three way rig designed for live and playback operation available as a two module or four module system.
Target release date has been extended to June 2022 so please check here or on Facebook for more info'.