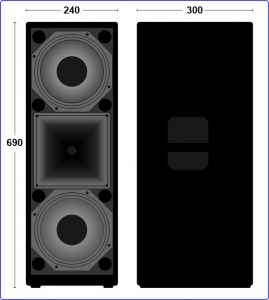 The predicted September launch passed by with little or no fanfare.
Time appears not to be on our side however, the new cabinet itself is complete as is the roll-out of the the matching single 18″ matching powered
bass cab.
The design for the new single 18″ incorporates a new style of cabinet tuning.
Nothing radical but we can guarantee it's highly effective.
With drive units too we're using a superb new high power highly efficient 8″ driver that has its roots firmly in the mould of previous models.
The 1″ HF unit is an amazing 16ohm device with the bonus of specialised cooling techniques.
The four box system will be know as the Gx8 and will be tri-amped in its drive from our on-board customised Powersoft modules.
It should be mentioned that the bass cabs are fitted with six handles and 4 x 100mm castors as standard.
Even the G208 top cabs have four handles to enable easy pole mounting.
Finally, all cabinets are supplied with covers made by "Hot Covers" (apart from installation models of course).