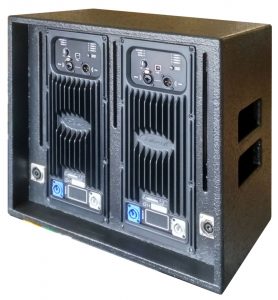 In development for a while but, with no surprises on board we have the all new ModPods.
The modules have been used in Blue Acoustic cabs for a number of years.
ModPods are Powersoft loaded so no surprise that amazing reliability will come as standard.
They'll enhance the quality of any superior sound system.
ModPods come from Ken Hughes, the designer of Blue Acoustic loudspeaker systems.
Ken has also  suggested that many of his earlier Shermann designs would benefit from ModPod drive following tests on some s/h products.
The ModPod shown here is the MPI6000 and is set for four way operation.
In this format the low end will drive 2 x 1500 watt, the low mid 2 x 750 whilst at the top end the drive will be up to 400w in to the high mid and 200w in the VHF.
"Setting this apart from conventional power amps the ModPod has heatsinks on the outside of the case and as such, fans are not required to maintain efficient heat transfer".
"We have fitted fans to cover even the most extreme circumstance but as yet, these have not been triggered" said Ken.
ModPods will only use Powersoft modules and DSP boards.
The choice of combinations from that company is very wide and totally sensible.
"We see ModPod as targeted towards Blue Acoustic superior quality rigs and also to other small to medium sized point source systems".
"They'll also be amazing when driving older products of ours" said Ken.
"It will give many older boxes a new lease of life".
ModPods are presently designed and built in Newtown.
For more information on the ModPods please contact Ken on 07971 882663 or email ken@blue-acoustic.com.